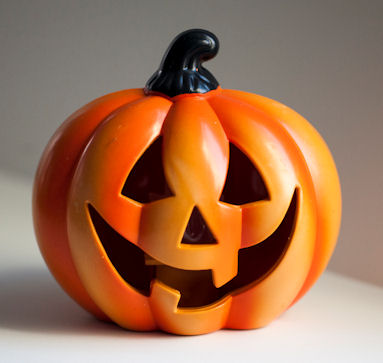 Cosmetic, colored contact lenses can take your Halloween costume to a whole new level! As the perfect finishing touch to any outfit, costume contact lenses can fully transform you into that sneaky cat, bloody vampire or any other character you dream up. Unfortunately, colored contacts can also turn your Halloween into a genuine eye nightmare if you don't have a contact lens prescription and professional contact lens fitting.
"Many people think that it's safe to purchase colored contact lenses from any novelty store or website, without a prescription from an eye doctor," says our optometrist, Dr. Deborah Lowy, O.D. of Lowy and Sewell Eye Care, in Concord, Ontario. "Yet colored contacts must be fit properly, just like all contacts, in order to avoid serious eye damage." An optometrist must perform a thorough eye exam to check and measure both eyes. An improper contact lens fit can cause corneal abrasions, corneal ulcers, decreased vision and pink eye, as well as other severe eye injuries and infections (such as keratitis) that can lead to permanent vision loss or blindness.
"...colored contacts must be fit properly, just like all contacts, in order to avoid serious eye damage."
If you're thinking about wearing circle or anime lenses, think again. With larger-than-normal diameters, the wearer has an illustrated, doll-like look. Yet this new type of costume lens is extremely unsafe for eyes and unavailable by prescription. Stay clear of purchasing these lenses, even if your local convenience store has them in stock!
Even if costume lenses are the right fit for your eyes, they must be cleaned just like regular lenses, with the correct disinfecting solutions. This is another piece of information that many people don't realize. Bacterial infections can develop rapidly – in as little as 24 hours of wearing lenses. "If you experience symptoms of redness, decreased vision or eye pain that doesn't go away quickly, it's important for the health of your vision to schedule an eye exam," advises our pediatric optometrist Dr. Jeremy Sewell, O.D.
Costume lenses are often thicker than regular contacts, which makes them less permeable to oxygen. This may make them unsuitable for some people's eyes, and an expert eye exam and prescription for contact lenses is the only way to safely dress your eyes up eyes. As long as they fit correctly and are worn in accordance with an eye doctor's instructions, colored contacts are an awesome way to make any mediocre Halloween costume into the ultimate disguise!
If you are unsure about what to order, or just want to check what contact lens prescription would be best for you, book an appointment and we'll be happy to direct you to the safest options on the market.
Call Lowy & Sewell Eye Care on 905-738-6680 in Concord, Ontario to schedule an eye exam with our optometrist.
FOLLOW US
Alternatively book an appointment online here CLICK FOR AN APPOINTMENT